SOLD – Avala Surgical Hospital in Covington, Louisiana
SOLD – Avala Surgical Hospital in Covington, Louisiana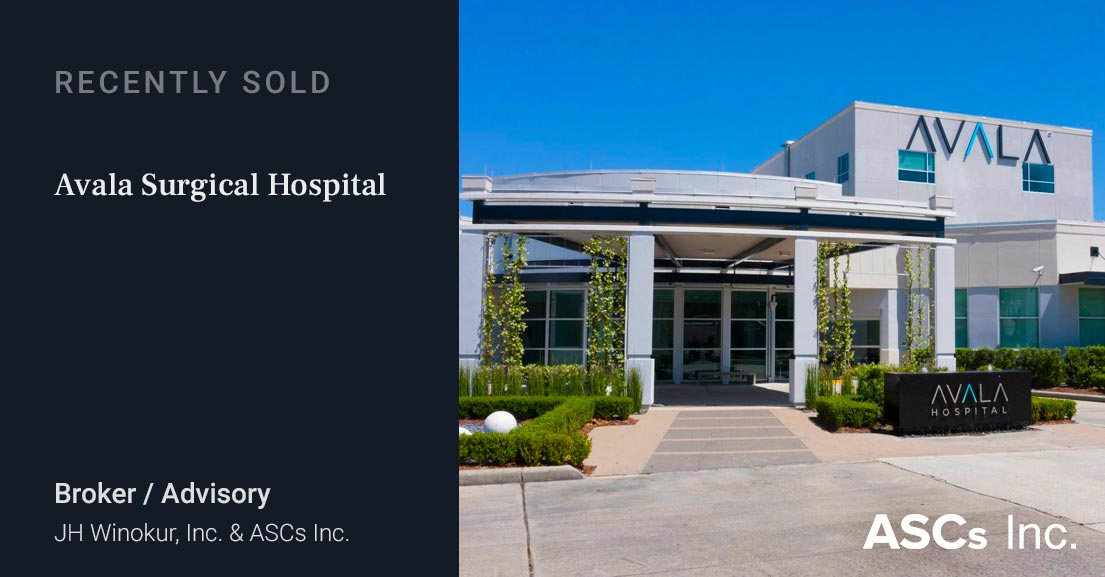 February 23, 2022 — ASCs Inc. and JH Winokur, Inc. are pleased to announce the closing of a healthcare real estate sale-leaseback transaction for Avala Surgical Hospital ("Avala") located in Covington, Louisiana.
Avala is a premier 60,087 square-foot, 21-bed surgical hospital with 8 Operating Rooms and 3 Procedure Rooms, which offers some of the most innovative and minimally invasive surgeries in the south. Avala offers a wide range of specialties and services including a state-of-the-art imaging facility, minimally invasive spine surgery, orthopedic surgery and physical therapy, bariatric surgery and GI procedures, eye surgery, plastic surgery, and more. Avala, with three Stryker Mako Robots, offers robotics-assisted surgeries for total hip replacements, total knee replacements, partial knee replacements and spine procedures.
Prior to the sale-leaseback, Avala completed an extensive Class A renovation and expansion of the facility. This included the addition of one new operating room, two treatment rooms, MRI suite, CT suite, new lab, new anesthesia offices, physician lounge, sterile supply area, kitchen, nuclear medicine, a new roof and renovation of the lobby, hallways and suites. The facility is located one hour north of New Orleans in one of the fastest growing communities in the nation.
The real estate was sold under the terms of a single long-term absolute NNN lease. The lease allows the tenant to have future flexibility for its many business entities and separate business lines within the building. The rent was not changed as a result of the transaction.
"One of the most important considerations for physician-owners of healthcare real estate is the impact the sale, lease and rent rates will have on the on the total value of the organization's assets, which in this case include interests in the group practice, surgical facility and ancillary services," states Jon Vick, ASCs Inc. Founder and Managing Partner.
"The sale-leaseback allows the physician/owners to recapitalize funds from their renovation and expansion and plan the next stage of the expansion of the Avala Campus. By introducing the opportunity to a vast number of real estate buyers on a regional and national level, we enabled the physician-owners to get maximum value for the real estate," states broker Jason Winokur, EVP of JH Winokur, Inc.
Many ASC owners are considering the sale-leaseback of their ASC real estate to provide liquidity, diversify their assets or simply to take advantage of the high premium prices medical real estate buyers are paying for quality medical buildings under long-term leases.
About ASCs Inc. (www.ascs-inc.com) and J.H. Winokur (www.jhwinokur.com)
For over 20 years the industry leading team at ASCs Inc. has represented the best interests of physician-owners of more than 300 surgery centers, surgical hospitals and group practices that have sold an interest in their business or real estate. ASCs Inc. enables clients to realize maximum value for their assets by positioning, marketing and managing the complex and time consuming sales process.
The real estate division of ASCs Inc., headed by real estate expert and broker J. H. Winokur, specializes in medical property real estate and valuations, and has managed more than $3B in transactions. By leveraging their expertise and knowledge and extensive local, regional and national buyer network they ensure clients realize the absolute best outcome when selling their real estate.
Physician Transaction Advisors (formerly ASCs Inc.) and JH Winokur, Inc. are pleased to announce the closing of a healthcare real estate sale-leaseback transaction for the Serra Medical Plaza, a 13,000 square-foot two-story medical office building (MOB) in Thousand Oaks, California. The Property was built-to-suit in 2014 and is 100% leased to Thousand Oaks Surgery Center (TOSC) – a leading multi-specialty surgery center in Ventura County with 4 operating rooms [...]